ROSEMARY SEA SALT SWEET POTATO CHIPS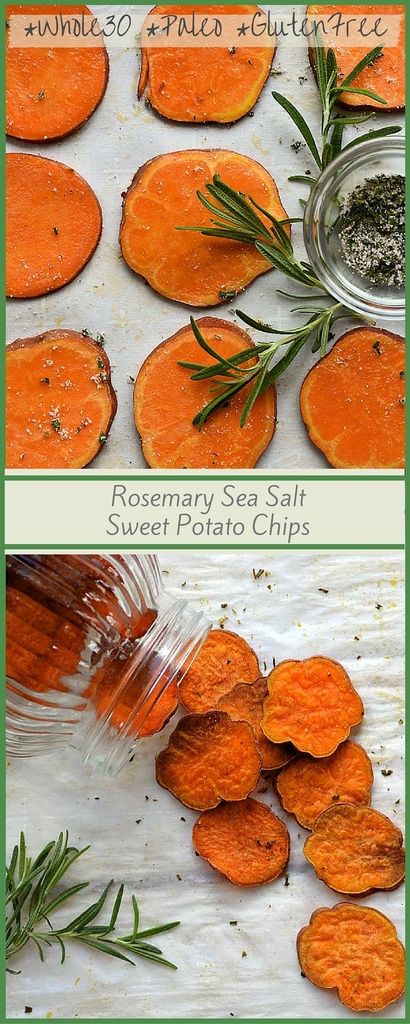 Sometimes I want to eat the potato chip. There is something primal in that salty, crunchy texture that goes way beyond snacking.  The only problem with indulging my cravings is most of the time they are store bought and anything but healthy. Even the so called "healthy" chips have way to much fat and little or no redeeming value. Thus my dilemma; how to satisfy my craving and keep it real all at the same time.
Sweet potatoes are the "hallelujah epiphany" I came up with. 
In doing my research on how to transform these nutritious healthy gems into tasty chips, I wanted to find just the right crunch. I found that everyone had a different answer on how to achieve it. The ingredients were mostly the same but the temperatures recommended varied a lot. And so, I ignored them all and set off on my own journey and I'm glad I did.
Rosemary Sea Salt Sweet Potato Chips are spot on; baked to perfection for a satisfying crunch. A healthy and whole food treat you can feel good about eating and sharing, though in my case the sharing is a little more difficult…I want to keep them all to myself.
Rosemary Sea Salt Sweet Potato Chips
Instructions
Line 2 large baking sheets with parchment paper or wax paper. Set aside.
Preheat oven to 450 degrees
Place 2 tbsp coconut oil into medium sized microwave safe glass bowl.
Microwave oil for 30 seconds to liquefy.
Add sliced sweet potatoes to bowl and stir gently to coat.
Place sweet potatoes onto baking sheets lined with parchment paper in single layer.
In a small bowl, mix together sea salt and rosemary.
Sprinkle sea salt and rosemary over sweet potatoes.
Place sweet potatoes in center of oven (cook one pan at a time if necessary. It's important to have good air flow between the pans).
Close oven door and immediately reduce heat to 300 degrees.
Cook sweet potatoes for 50 to 60 minutes turning pan 180 degrees every 10-15 minutes for even browning. Once sweet potatoes begin to brown, remove from the oven and let cool completely.
The sweet potato chips will continue to crisp up as they cool.
Rosemary Sea Salt Sweet Potatoes shared with:
Merry Monday Link Party, The Mommy Monday Blog Hop; Tasty Tuesday; Wonderful Wednesday Blog Hop; The Wednesday Round Up; Creative Spark Link Party;Worthwhile Wednesdays; Create it Thursday; Let's Get Real Friday Party; Foodie FriDIY; Happiness is Homemade; Hearth and Soul Blog Hop; Our Simple Homestead Blog Hop
DISCLOSURE OF MATERIAL CONNECTION: SOME OF THE LINKS IN THE POST ABOVE ARE "AFFILIATE LINKS." THIS MEANS IF YOU CLICK ON THE LINK AND PURCHASE THE ITEM, I WILL RECEIVE AN AFFILIATE COMMISSION. REGARDLESS, I ONLY RECOMMEND PRODUCTS OR SERVICES I USE PERSONALLY AND BELIEVE WILL ADD VALUE TO MY READERS. I AM DISCLOSING THIS IN ACCORDANCE WITH THE FEDERAL TRADE COMMISSION'S 16 CFR, PART 255: "GUIDES CONCERNING THE USE OF ENDORSEMENTS AND TESTIMONIALS IN ADVERTISING."